Music at St. Mary's
Do you like to sing? Do you play an instrument? If so, we would love to have you join us in worship and music.
We have two Sunday services that include music: the 8:00 a.m. classic Episcopal service, and the 10:30 a.m. contemporary service. It is always helpful to have some singers and instrumentalists to help lead the music at these services, and music is one of the ways that we glorify God in our worship.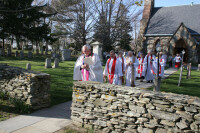 The choir rehearses on Thursdays at 7 p.m. in the choir room. Rehearsals have been, in the past, primarily for the 8 a.m. choir to review the week's hymns and service music, and to work on anthems for upcoming Sundays and special occasions. This year, Thursday evenings also include some time to go over the 10:30 music. One reason is that some of our 8 am singers choose to stay and sing at the 10:30. Also, some folks might want to participate in the Sunday morning programs that are offered between services, making it difficult to attend the pre-service choir rehearsal. The short rehearsal on Thursday evening makes it easier to participate in both.
If Thursday evening doesn't work for you, please come sing with us on Sundays anyway. We have a short practice time at 7:30 a.m. in the church for the 8 a.m. service, and the 10:30 a.m. singers practice at 9:45 a.m. in the chapel.
Interested? Speak to our music director, Karin Larsen ( ), or to our honorary musician, Marilyn Hambly ( ).