Prayer Shawl Ministry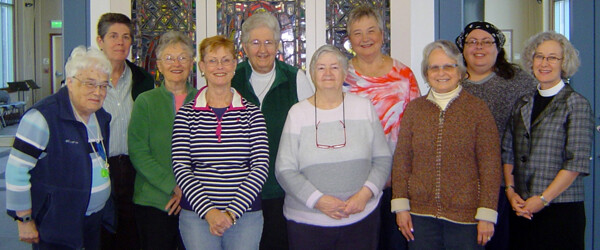 May the one who receives this shawl
be cradled in hope, kept in joy,
graced with peace, and wrapped in love.
The Prayer Shawl Ministry meets Wednesdays at 10 am in the Adult Formation Room of the Parish House.
Prayer by Marge Beardwood
A group gathered together, for singleness of purpose, to knit comforting prayer shawls for those in need. Given freely to any and all who could benefit from the comfort and warmth; not only to the body, but to the soul. A very special part of the prayer shawl ministry is the knitting of baptismal blankets for the church's tiny newborn babies….such a lovely way to be part of the christening services and welcome a new member of the church family. Such a caring group of happy go-lucky knitters, each working their skills to finish such creative lovely shawls. Each one, a special masterpiece.
Blessed are the Prayer Shawl knitters!
Varied are the reasons why prayer shawls are given or requested; surgeries, illnesses requiring hospitalizations; serious falls resulting in broken bones; terminal diagnosis, sudden loss of a loved one or, on a happier note, given to a church group going on a pilgrimage. In any event, the prayer shawls are gladly received and treasured.

Contact:
Chair: Jeanne Derrah
Phone: 847-5747