St. Mary's Beginnings
The cornerstone of Saint Mary's was laid on September 2, 1847, by Bishop John H. K. Henshaw. The church, and over eighty acres of land, were given by Miss Sarah Gibbs of Oakland, Portsmouth, Rhode Island, as a "humble thank-offering to God for innumerable bounties of His Providence and Grace."
Miss Gibbs had long been interested in the welfare of the Church people of the Island. Beginning before 1843 she started several projects to bring the Church to the people of Middletown and Portsmouth. Several places were used for worship while looking for a suitable place for a church and seminary. The first regular services of Saint Mary's were held on the Third Sunday of Advent, 1843. Finally, she bought the old Potter Farm and had Saint Mary's built as a free-will offering for all God's blessings to her, to further the Gospel, and to maintain the doctrine of the Episcopal Church.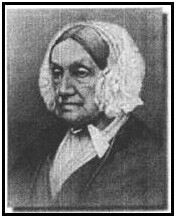 Miss Gibbs continually, with the help of the first rector, the Reverend Hobart Williams, worked to establish a seminary on Saint Mary's grounds. According to tradition, Miss Gibbs set up her will to provide for a rectory, seminary, school and parish house, but the will was never found, and her estate was administered according to law.
The Reverend Hobart Williams was the rector for over forty years. Fifteen rectors have followed him.
The parish has continually grown and expanded as the need arose. One interesting story is that with the death of Miss Sarah Gibbs the rector found himself without a home, and because funds could not be raised he had to personally finance the refurbishing of the old farmhouse found on the property. Mrs. Williams sold the rectory to the parish, after her husband's death, for one dollar as a token of the love the rector and his wife had for the parish. In 1927 the parish house was built in order to have educational and recreational facilities for the parish. The Church School was founded about 1908. Classrooms were added in 1959.
On April 22, 2007 St. George's Episcopal Church, Newport, joined with St. Mary's for shared ministry, worship, fellowship and formation.
In September 2012, construction of a new parish house was completed. The new building houses the church offices, the Chapel, and various rooms which are used for both church and non-church community groups and events.