St. Mary's News
St. Mary's is a community of Christian worship, well-being and service.



Holy Week and Easter Services

Holy Week is upon us.
The three holy days, or Triduum, of Maundy Thursday, Good Friday, and Holy Saturday (which is also called the Great Vigil of Easter) are at the heart of the Christian Holy Week observance. All are welcome to join us this holy week.
Maundy Thursday (4/18) - 6:00 p.m. in St. George's Chapel (Parish House)
Community supper followed by foot washing and Eucharist.
Good Friday (4/19) - Services at noon and 7:00 p.m. in the Historic Church.
Great Vigil of Easter (4/20) - 7:30 p.m. in the Historic Church.
Our celebrant will be the Rt. Rev Nicholas Knisely, Bishop of Rhode Island.
A Festive reception will follow this service.
Easter Sunday Services
Easter Service at 8:00 a.m. in the historic church.
Easter Service at 10:00 a.m. in St. George's Chapel (Parish House)
Easter Egg Hunt will follow the 10:00 a.m. service.
---
Well-Being




A Living Compass resource
This print booklet will be our spiritual resource through Lent this year. Pick up your (free) copy at church. If you can't get to church or want to go deeper there's more for you to check out. Visit the Living Compass site and explore all their Lenten offerings.
---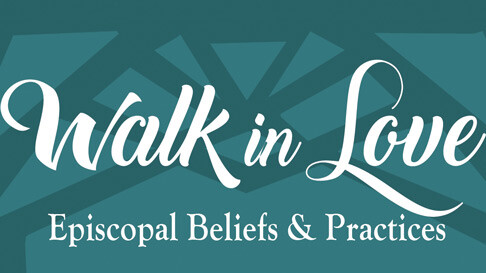 Discover the richness of the Episcopal Church
Are you exploring the Episcopal Church from another denomination? Are you a lifelong Episcopalian who still has lots of questions? St. Mary's invites you to an ongoing discovery of faith and belief, which you may join at any time.
We will be using the book Walk in Love: Episcopal Beliefs and Practices by Scott Gunn and Melody Wilson Shobe (available through Forward Movement or Amazon).
This series will meet monthly from March through June and be taught by the Rev. Jennifer Pedrick. For dates and times, please see the Calendar of Events.
---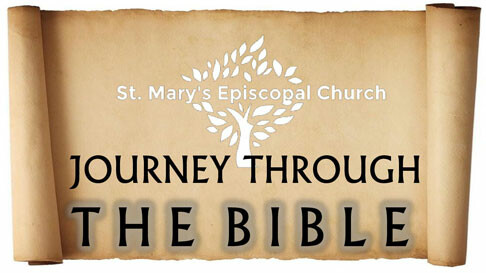 Journey Through the Bible
Sundays at 9:00 a.m. and Wednesdays at noon
We resume our journey through the Bible on January 6th. The text we are using to navigate our journey is called The Path. Newcomers are always welcome.

There will be no Bible Study on Palm Sunday or Easter. Classes resume on April 28th.
Won't you come with us on the journey?


Children's Sunday School
Also at 9:00 a.m. in a downstairs classroom, children ages 4-8 years are welcome to attend a Godly Play workshop. Godly Play is a Montessori inspired program that nurtures wonder and teaches sacred story.
---
Service
"May this shawl enfold you, encircle you and empower you.
May this shawl show you that you are loved.
It is a shawl of protection, wholeness, strength, healing and patience."

All SMC Prayer Shawls include the above blessing.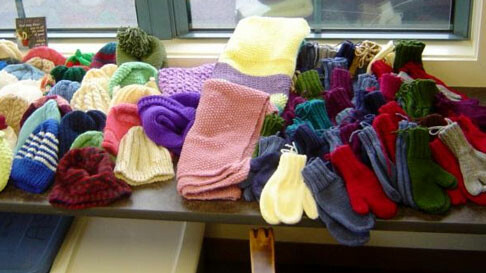 Prayer shawl ministry
The Prayer Shawl Ministry at St. Mary's has been making prayer shawls, hats, scarves and mittens, and baby blankets for those in need of warmth and love for quite a while now. Each item - whether it is knitted, crocheted or sewn - is made with love and concern for the recipient.
The Prayer Shawl Ministry meets on Wednesday mornings at 10:00 a.m. All those who knit, crochet, or prefer some other kind of fiber art, are welcome.
---
Campaign for the Historic Church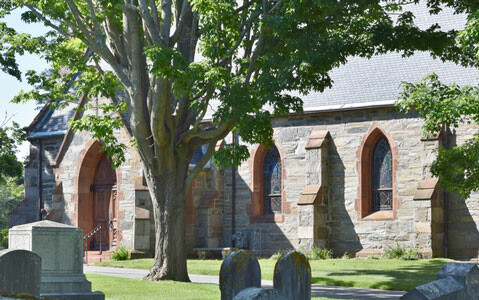 December 2018 update -
By the grace of God, the incredible generosity of the St. Mary's community, and several favorable decisions by foundations, we have made tremendous progress in our fund-raising campaign for the Historic Church.

As of December 15, 2018 St. Mary's has received:
- from donations and pledges - $295,000
- grants from foundations - $255,000
- for a grand total of $550,000!
We can now raise the roof!


Phase II - Replacing the slate roof will become a reality in the new year. THEN we can focus on Phase III, restoring and renovating the interior.
Thanks to all - individuals, families, friends, foundations - for your commitment and generosity to our Historic Church.

Please visit this page for more information and to learn how you can help.
---
St. Mary's Weekly E-News
For all of the details of this week at St. Mary's and more news about what is going on, read our weekly e-news.
---
What to receive our e-news?
Complete the form below.