St. Mary's News
St. Mary's is a community of Christian worship, well-being and service.



Worship

"O' come, o' come, Emmanuel."
Worship with us this Advent
St. Mary's offers two worship services.
Saturday evening at 5:00 p.m.
On the first Saturday of every month, a Wine and Cheese Get-Together is held in the Gathering Space (in the Parish House).
Sunday morning at 9:00 a.m.
The Sunday service is followed by an informal Coffee Hour in the Gathering Space (in the Parish House).
Check out our Worship Services Page for details.
Everyone is welcome!
---
Well-Being

"Growing into the full stature of Christ." Ephesians 4
---
Prepare the way - Advent for All Ages

st nicholas sunday
Sunday, December 8th at the 9:00 a.m. service
Children leave their shoes by the Giving Tree during worship. We expect a surprise visit from St. Nick - and maybe a treat or two inside the shoes!
Living Compass aDVENT bOOKLETS
Available all through Advent. An Advent Devotional that will help you have a holy Advent. Includes suggested spiritual practices and reflections to read and ponder at home.
Christmas costume shop
This "shop" will be open each Sunday during Advent, after church and during Office Hours in the hallway. Children can take home a costume to wear at church at the 4:00 p.m. Christmas Eve Family Service.
---
Sacred Ground

A new series, sponsored by the National Episcopal Church, will be offered at St. Mary's beginning this winter (January through June). We ask you to pray about how matters of race impact your own faith and step onto Sacred Ground with us - for your well-being and the well-being of the world.
You can discover more about Sacred Ground HERE.
To express interest, ask questions or take part, contact Lynn Carlson-Leblanc.
---
Service
Let the greatest among you be the servant....Matthew 23

Tree of Lights

Bring canned and packaged goods and help us build two huge Trees of Light to give to the MLK Center. We will build us Trees of Light from now until January 6th.
---
Food Donations for the MLK Center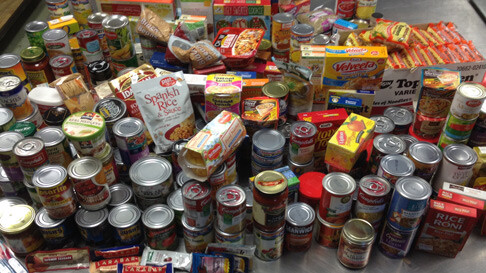 The November and December donation focus is dental hygiene: tooth brushes, tooth paste, dental floss and mouth wash. For food items, please concentrate on holiday themed items such as stuffing, canned gravy, cranberry sauce etc. MLKC is trying to focus on providing fresh produce over canned as often as possible.

In the second quarter of the year, St. Mary's has donated 732 lbs. of food to the Martin Luther King Center - and to date, over 1,300 lbs!
---
Soup Kitchen

St. Mary's turn at the local Soup Kitchen is the second Thursday of every month. The next date for our turn is December 12th.
We need meatloaves, cooked and wrapped in foil, apple juice, Ragu Sauce, finger desserts and fruit (oranges, pears or bananas).

Help setting up, serving and cleaning up is always needed too and greatly appreciated. Take a look at our Soup Kitchen Handout for a more detailed description of what's involved in this ministry.
If you would like to help, please contact
---
St. Mary's Weekly E-News
For all of the details of this week at St. Mary's and more news about what is going on, read our weekly e-news.
---
Want to receive our e-news?