St. Mary's News
A Very Special Autumn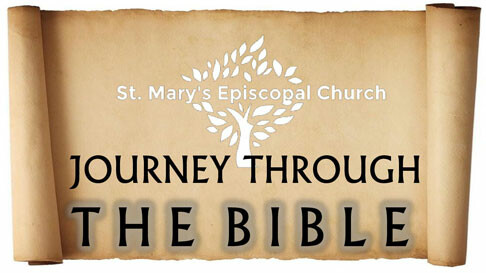 In 2018-19, the St. Mary's community is embarking on a year-long journey with the Bible. The Path: A Journey Through the Bible, is what we'll be using as our guide. And we are inviting all ages, all stages, all people on this journey with us.
Adults, teens and children will meet on Sunday mornings at 9:00, beginning on Sunday, September 16th.
Adults will meet in the Adult Christian Ed room

Teens and children will meet downstairs in designated classrooms. Teens will be invited to have breakfast together.
(There will be another session for Adults, held on Wednesday's at noon. See our Event Calendar for specific dates for all these classes.)
We've prepared a place for you on this Journey Through the Bible.

The cost of the program is $20 for each person (of any age) with a maximum of $60 per family. This will cover the cost of the book and all class materials. This is a one-time charge for the whole year.
Registration is required so that we can order enough books. Please see Gabe Giella, Director of Christian Formation, or call (846-9700, Ext. 100) or email him at to reserve your spot.
Contemplative Prayer and Scripture
Saturday evenings at 4:00 p.m.
A contemplative prayer and scripture study. Audrey Bennet will lead us through a contemplative method of prayer using Holy Scripture. A perfect prelude to our Saturday evening Contemplative Service at 5:00 p.m.
---
Summer Events
Wednesday, August 22 at 6:30 p.m.
Savor the Summer - A Relaxing and Creative Evening
Gathering behind the Parish House overlooking the back field, we will savor the gift of our beautiful property, the summer sunset, enjoy good company - and paint!
No artistic skills or experience required. Painting supplies will be provided - suggested donation $10.00. Suitable for adults and teens. Hosted by Gabe Giella and Peter Landy. To save your spot, email Gabe at .
---
Beach worship, baptism and potluck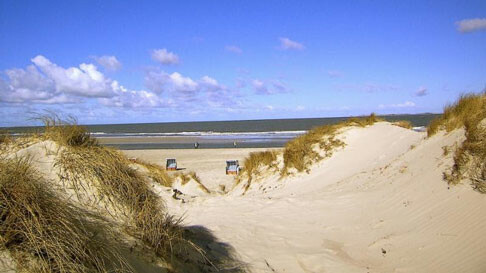 Sunday, August 19th at 10:00 a.m.
We are planning to worship at Sandy Point Beach for the 10:00 service on August 19th. Worship will include a Baptism and a community potluck lunch following the service.
Please bring beach chairs and a dish to share. Parking will be free for SMC. (5pm and 8am worship services remain unchanged.)
---

"Feed my sheep"
Two ways to reach out to the hungry in our community
buy a child a lunch
A special collection effort during August
For the month of August, we will be conducting a "Buy a child a lunch" collection to support the children at the Martin Luther King Center as they return to their Pre-School and After-School programs.
Everyday the MLKC serves over 70 meals to its children and teachers. We will be taking up a collection after every service, so we can help those students start the year off in a nourished and healthy way.
If you would like to contribute to this effort, or help with taking up the collection at any service,
please contact Judy Hall - 401-924-4252.
Free from hunger food drive
A message and plea from the folks at the Martin Luther King Food Pantry in Newport
"For most of us July and August means Independence Day, BBQs and picnics, But for the hungry people of Newport County, that sense of ease and freedom does not exist. Over 8,000 people in Newport County live below the Federal Poverty level. One in eight of our neighbors are food insecure.
So we're reaching out to you for your help. We need to add 5,000 pounds of food to our shelves before the end of August. Every donation matters!"
All the food St. Mary's collects goes to the MLK Food Pantry. If you haven't been coming to church during the summer; if your contributions to our food collection have slowed; or if you have never contributed before - NOW's THE TIME. It's easy - when you go out shopping buy 2 cans instead of 1, and bring one to church! Even one can (or box) can make a big difference.
---
If you are generous with the hungry, and start giving yourselves to the down and out,
Your lives will begin to glow in the darkness, your shadowed lives will be bathed in sunlight.

Isaiah 58:10
---
---
Update on the Historic Church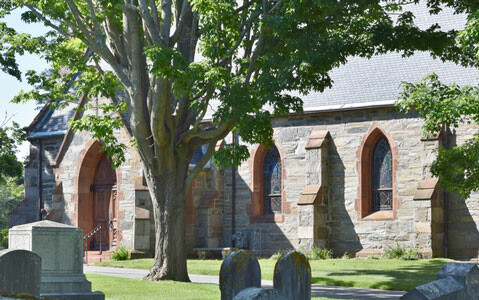 The Campaign for the Historic Church has been launched!
Phase One (mold abatement, deep cleaning, air scrubbing, concrete floor pouring and de-humidifier installation) is done. The air has been tested and deemed safe. We are once again worshipping in the Historic Church!
Many thanks to all who worked hard to make this possible. And many, many thanks to all who donated money for Phase One. Without all of you, this would not have happened.
Now we turn our attention to Phases Two and Three and the Campaign for the Historic Church. Please visit this page for details on what is going on and to learn how you can help.
---
St. Mary's Weekly E-News
For all of the details of this week at St. Mary's and more news about what is going on, read our weekly e-news.
---
What to receive our e-news?
Complete the form below.