"There are many workmen"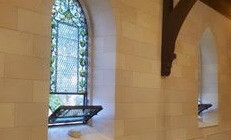 Moreover, there are many workmen with you, stonecutters and masons of stone and carpenters, and all men who are skillful in every kind of work.
1st Chronicles 22:15
The past two weeks have been perhaps the hottest weather stretch we have ever experienced in Rhode Island. However, if you were on a scaffolding painting high on the interior of the historic church during the past two weeks you would agree it was almost unbearable. During this time, "men who are skillful in every kind of work" have continued to offer their talent and artistry in the restoration of the Historic Church.
Yet everyday Stephen, Marco and Manuel, employees of Milan Restoration which specializes in church restoration work, climbed the scaffoldings after weeks of repairing the broken plaster and painting, so that we could one day return to our historic church to worship. They were resolute in their work ethic, staying sometimes till after 7 pm, so that this project could be finished on-time and in a professional and beautiful manner. Their dedication to the job and commitment to our church was truly unique, inspiring and certainly a blessing. These three talented and dedicated workers from Ecuador and Mexico are part of the Milan Restoration team that Marko and his brother Milan have put together. Marko and Milan are following in their father's footsteps who founded Milan Restorations.
The results of their labors are extraordinary.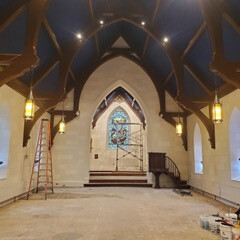 These men came to St. Mary's Church weekly from New York to live and work during this very hot weather and turned the crumbling interior of a historic church into their masterpiece. And to accomplish this, it was necessary for them to endure draining heat while maintaining their professional artistic focus as they executed the color palette that Taste Design, Inc., helped us select. They also had to endure constant oversight and review to ensure that the four colors used on the individual faux stones were done just right artistically to create the desired faux stone visual mosaic.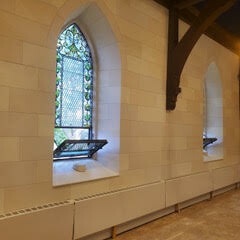 The detail of painting these faux stones in such a way to avoid the mortar color between the stones on the scored lines to become painted over was a constant challenge. They did not just paint the walls with one color and a roller, as we might do in our own homes, but carefully selected one of four colors and painted each faux stone individually to achieve the desired historic design context.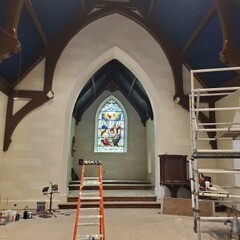 There were many hours of repair in this regard, but they did their work without the slightest complaint, as they knew this was to be their masterpiece. It was also to be their gift not only to our congregation but to God, quite a burden I suppose. Because of their efforts, their work will endure and our church will be returned to its historic beauty without water stains, crumbling walls, and a falling ceiling. For another 175 years families will come to worship and the hope is that Stephen, Marco, and Manuel's work will always be remembered for the effort and the skill they provided for this beautiful restoration of our historic church
At the request of Milan Restoration, Zurab Chertkoev (Zee) completed the beautiful stars and design inserts on the blue ceiling above the altar.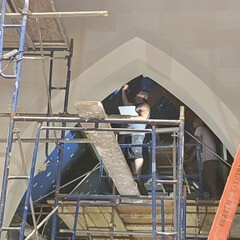 Zee, a very talented artist who is originally from Russia, put the finishing touches on this remarkable aspect of the project.
Below pictures of the final results of his work, which in its simplicity returned the ceiling to its original historic beautiful design to inspire and to be appreciated as we worship on Sunday mornings.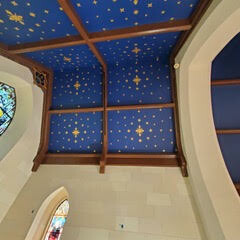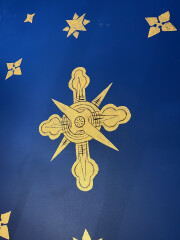 It is worth considering, as the world is torn apart because of the issues of immigration and the conflict with Russia in Ukraine, that our church has been restored in part and beautified by ordinary and talented individuals from these regions. Maybe there is a lesson in this project beyond the results of their work. Somewhere in the Bible, I am sure there is a text on this very issue, but we will leave to our rector the task of sharing that biblical insight as we focus our energies on the task at hand of completing this project on time and on budget.
Our hope is that when the church reopens, and we see the newly refinished doors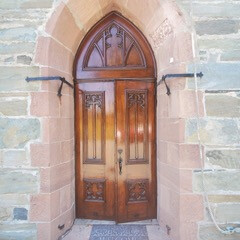 and appreciate the renewed spiritual renaissance, that we invite back the individuals and maybe their families, who have been so instrumental in the restoration of our church, to receive our praise and thanks. These pictures show the finished painting of the historic church.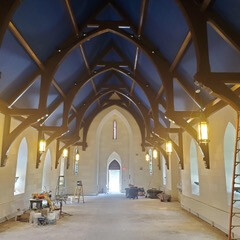 However, the reality of what it was and what it has become is truly breathtaking when seen in person. If anyone is disappointed in the finished interior, it will not be because those who worked on this project did not put excessive sweat equity and dedication into their work and effort. Insert two pictures here.
As impressive as the painting of the church is, the new electrical service and lighting fixtures make the interior radiate beautifully. Mike Pimentel has been working on the electrical systems of our church, as an employee of Coastal Electric, Inc., for more than twenty years and has been superb.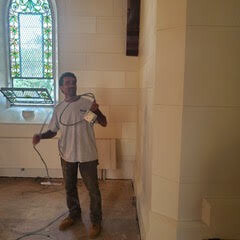 We told Coastal Electric at the beginning of this project that since they had been our electrical service provider for so many years, we wanted them to be the electrical contractor on this project. This will ensure if we need them to repair some problem on a cold Saturday night before Sunday morning services, they will willingly come to repair what they installed. Sometimes finding the cheapest service provider in the long run is costlier.
From his past work Mike knew what electrical lines had been pulled and where they were connected. He was always quick and efficient and no doubt saved us money from his existing knowledge of the building and its electrical system. This will probably be his last major job, as he plans to retire shortly. He is an exceptional professional who has served our church not only so well in this restoration project but for many years. He too should be thanked in person in the future for his years of dedication to St. Mary's Church and for his work on this project. He excelled in doing what was needed and knew what needed to be done and in what sequence. Few craftsmen have these skills or apply them; many are just satisfied being mediocre. So, the hope, too, is when during future worship services we not only will see the beautiful painted walls but will easily read the printed text for songs and scriptures. For this improvement, we can remember and quietly thank Mike as well.
As you can see from the photos throughout this writing, the pendant light fixtures have been re-hung and new interior bulbs put in them to provide more lighting. The new ceiling floods also have a dimmer switch capability, so that the church can be lit as brightly as any majestic cathedral or as solemn as any Christmas Eve service. The front stained-glass window over the altar will be illuminated from the inside so that passing cars will be able to see this beautiful art piece and the church at night through the trees.
And no longer will the congregation see the unsightly rows of light switches in the front of the church. When returned, the refinished altar and the other restored religious furniture will be washed with the new lighting and will show their beauty. The baptismal font and the font wall sculpture will be illuminated. The bridal entrance, as was previously discussed, is perhaps one of the finest architectural features of this restored church, and it will be illuminated as well.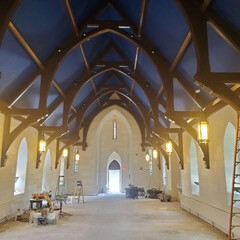 So, we hope Richard Upjohn, the original church architect of 1845, would be happy today with the way we have tried to bring back his original interior design, now enlightened to meet today's religious service needs. He was a British-born (1802) architect who learned the trade of cabinet making, which one can see in our high wood pulpit. He then learned the art of architecture for designing churches and other buildings and is known for his Greek Revival theme.
Upjohn's family moved from New Bedford to Boston after immigrating from England. Moving to New York in 1839, he was commissioned in 1846 to design the famed Trinity Church on Wall Street. This would have been the same timeframe that he was designing Kingscote (1839) and the Edward King House (1845) in Newport; the Bowdoin College Chapel, Brunswick, Maine (1844-1855); Grace Episcopal Church in Providence(1845); Trinity Church in New York City was preceded by the Church of the Holy Cross in Middletown (1844) which he designed before St. Mary's Church (1847). He was certainly one busy architect. It seems most likely that as a result of the Gibbs family connection in society in Newport, that Sarah Gibbs became aware of his architectural skill and engaged him to design St. Mary's Church.
So what is next for the restoration of St. Mary's Church? We had hoped that the oak flooring would be delivered the second week in August, but we have recently been advised that it should arrive either the last week in August or the first week in September. This is later than we originally hoped, but with effort we still believe that we can be finished in October. The flooring subcontractor has suggested that he can finish laying the floor in two weeks. Then we will put down the carpet which is already in Rhode Island, followed by the new organ and the sound system. So, the next bi-weekly note may be short on accomplishment, but all in good time as the project is nicely coming together. Anon